What is Mercedes-Benz DISTRONIC PLUS®?

DISTRONIC PLUS® is an active cruise control system that does much more than regulate your speed. Unlike standard single-speed cruise control systems, DISTRONIC PLUS® also monitors the distance between you and the vehicle ahead. This helps you stay with the flow of traffic more safely. You can find DISTRONIC® on a wide range of new Mercedes-Benz vehicles, such as the Mercedes-Benz CLA coupe and GLA SUV. Read on to learn more about DISTRONIC PLUS® and how it works!
---
---
A Quick Guide to Using DISTRONIC PLUS®
Is your Mercedes-Benz vehicle equipped with DISTRONIC PLUS®? If so, using the system is simple when you follow these steps:
The controls for DISTRONIC PLUS® can be found on the lever attached to the steering column. This is one of the few ways DISTRONIC PLUS® resembles an average control system.
Adjusting your cruise speed is easy; move the lever up or down to increase or decrease the speed by one mile per hour. Forcefully pressing the lever increases or decreases speed by five miles per hour.
Press the brake pedal or push the lever away from you to cancel your most recent cruise control setting. Pull the lever toward you to resume the last speed setting.
To set a distance interval, turn the knob at the end of the lever. You'll see the distance on the central screen.
DISTRONIC PLUS® can stop your vehicle if traffic comes to a stop. To resume after three seconds, simply press the gas pedal or pull the lever toward you.
Use DISTRONIC PLUS® on highways only. This system is designed to help improve your driving experience but isn't a replacement for your attentiveness. To learn more about DISTRONIC PLUS® controls, check your owner's manual.
About DISTRONIC PLUS® with Steering Assist
DISTRONIC PLUS® with Steering Assist takes driver assistance to the next level by helping you keep your vehicle in its lane. The system monitors lane markers and surrounding cars and can perform slight course corrections if you veer a little too far to one side during cornering. Additionally, DISTRONIC PLUS® with Steering Assist monitors left-hand traffic to help prevent overtaking vehicles from the right. This, coupled with the intelligence of DISTRONIC PLUS®, can help make the journeys from Phoenix to Gilbert less stressful and more relaxing.
Mercedes-Benz Vehicles with DISTRONIC®
The following Mercedes-Benz vehicles offer this system as standard or optional equipment:
Mercedes-Benz S-Class
Mercedes-Benz CLS
Mercedes-Benz GLA
Mercedes-Benz GLS
Mercedes-Benz G-Class
Mercedes-Benz SLC
Mercedes-Benz SL-Class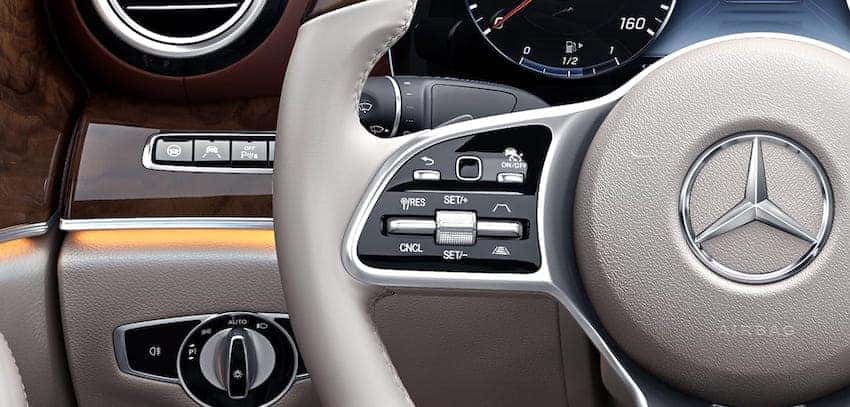 Test Out DISTRONIC® at Mercedes-Benz of Chandler!
Ready to see how DISTRONIC® works first-hand? Contact us to schedule a test drive with the Mercedes-Benz CLA, C-Class, or GLE! We'll put you behind the wheel and show how this intelligent cruise control system operates, along with features like mbrace®, ATTENTION ASSIST®, and PRESAFE®.